Monday August 15, 2022
Summer Kids Activities in Dubai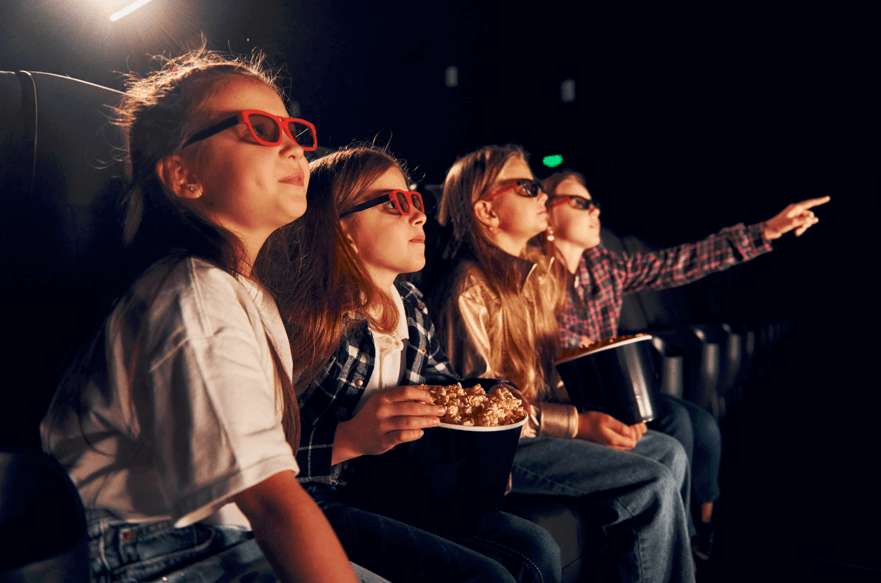 Summer's here! With school out for the season, kids want to enjoy their holiday to the max. At Dragon Mart, we offer a variety of kids activities in Dubai. You can enjoy a whole family outing, organise a playdate at our hot spots, and try new foods and activities.
Here are some fun activities for kids in Dubai for your young bundles of energy to enjoy.
Experience NOVO Cinemas
Catch the latest blockbusters at NOVO Cinemas this summer! Located on Level 2, Novo Cinemas has something available for kids of all ages.
NOVO Cinemas offers the following experiences for every type of movie-goer:
A popular experience for your younger kids, it provides kid-friendly movies, safe and comfortable seating, and a cheerful ambience. After the movie's over, it'll be hard to get your kids out of the cinema.
To fully immerse in a film, the IMAX theatre is the best choice. If your kids enjoy diving into the film, this experience offers technologically advanced speakers, screens, and more for incredible cinematic viewing.
Treat yourself and the kids to a luxurious movie outing. Check out 7 Star cinema - with a VIP lounge, butler service, and a fine-dining menu.
Want an exhilarating experience? Jump into your movie with a larger-than-life ultra-realistic viewing. It's bound to keep your kids entertained from start to finish.
You can also enjoy NOVO Cinema's great snack and refreshments area, with munchies for the whole family to enjoy. What cinema experience is complete without popcorn and a soda?
As far as summer activities for kids in Dubai go, this is the perfect indoor activity. Creativity blossoms from inspiration and inspiration come from the arts - especially movies. Keep your kids inspired at home and in school with a good movie.
Sports Fun With Ahdaaf Sports Club
For a great outdoor activity, the Ahdaaf Sports Club has a football pitch and a cricket court! These fun summer activities for kids are a great way to spend the summer break.
Sports are an excellent way for kids to get their energy out during the summer holiday. Football is a great way to get kids to bond, make new friends, and learn team-building skills. Cricket also teaches your kids patience, planning, and resilience. Not only are your kids getting healthy with a good workout when playing sports at the Ahdaaf Sports Club, but they'll also gain new skills with each game.
Who knows, your kid could be the next star player or even the next greatest batsman, thanks to a wonderful summer at Ahdaaf Sports Club.
Opening hours are from 4 PM to 1 AM. Get your kids playing right after lunch when the temperatures drop a bit and still make it home in time for dinner.
Make sure to book for some sports fun and a great physical activity for your kids!
Go On A Food Journey
Want a bite to eat? At Dragon Mart, there's a meal available for eaters of all kinds and all ages.
Our diverse food court and various restaurants are indeed a journey. Your kid's mid-day lunch can go from the Great Wall of China to the Taj Mahal and more with different experiences and cuisines to enjoy.
Here are a few places to try the next time you're at Dragon Mart:
If you want to push your kids to try new foods, try The Mahal. This delightful Turkish restaurant serves classical meals set to please every taste bud. Don't miss out on this delicious selection of meats and barbeque. For a healthy dose of sweetness, you can order a variety of delicious fresh juices to finish your meal.
If your kids are craving Asian food, Old Wood Village is your best bet. With an extensive menu, you and your kids can order different dishes to taste on your tour of Asia. To have some fun, you can also order a delicious Hot Pot and enjoy the unique experience.
And finally, a quick stop at Kababak can please any food craving. Order a quick and tasty sandwich packed with flavour or a delightful rice dish to fill you up. Take a culinary trip to Iran right at our food court!
An extra step to enhance the experience is to try a food challenge. A blindfold food tasting challenge is sure to get your kids out of their comfort zone and have fun. Or, on a family outing, each person can order a surprise dish for the other from any of our food court spots.
Grab a seat at the food court to soak up the energy and create wonderful memories together.
An Adventurous Shopping Spree
If your kid prefers other activities, why not go on a shopping spree to spark their imagination? There's something to get, whether it's the newest toy or the latest fashion trends.
On our two floors, Dragon Mart has a variety of shops selling unique and interesting items. Find art supplies for the budding designer, tools for your young entrepreneur, and more!
Take your kids out to check out different shops and stimulate their creativity. How? Play Dress-up! At each shop, either pick out characters to dress up like or blind-pick outfits for each other to try on. Create out-of-the-box sets or find each other the perfect accessory.
A quick tip: head over mid-morning before it gets packed. You'll find a parking spot and have plenty of time afterwards to explore more of Dragon Mart.
Head to the HA section marked once you enter Dragon Mart and explore the shops to your heart's desire!
Check Out Dragon Mart Today
Dragon Mart offers a variety of attractions for the whole family. Your sporty, artistic, and curious kids will all find something to enjoy.
Take your kids out to enjoy a fabulous day with top-of-the-line safety standards for the most fun!